The finest Thai cuisine anywhere!
Our customers who travel to Thailand come back to us because our food is "better than the original".
Our chef Sally has created her own recipes that blend delectable Oriental flavors into unique dishes that will astound your taste buds. You must try her signature dishes -- Pad Thai and Thai salads --to really experience the taste of Thai.
Visit Thailand - right here in San Antonio.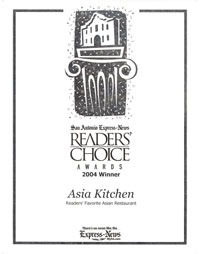 See our description on WhereTheLocalsEat.com
Asia Kitchen serves lunch and dinner,
both dining in and take out.
It offers catering for special occasions.
Sun - Thu 11:00 am - 9:00 pm
Fri/Sat - 11:00 am - 10:00 pm

Delivery to Business: Mon-Sat 11am - 5pm
To business delivery (Min $50)

1739 S.W. Loop 410, Suite 201-204
San Antonio, Texas 78227
(210)673-0662
(210)675-3170